Billion dollar NSW privatisation plan delayed by bushfire crisis
The delay comes after the government committed $1 billion to the bushfire recovery over the next two years to assist rebuilding roads, rail lines and schools.
The Treasurer said it was too early to predict what impact the bushfires would have on the NSW budget, but says the state's $700 million surplus would act as a buffer.
"That is exactly why we run surpluses so we can respond to events such as these and help our communities rebuild," Mr Perrottet said.
"We have assured the Emergency Services Minister David Elliott and the RFS they will get whatever support they need."
Loading
The Herald understands there is interest in the NSW softwood plantation lease from potential bidders, with industry sources predicting business could be willing to fund the repair and recovery costs at damaged sites as part of any deal with the government.
But NSW Labor leader Jodi McKay said the privatisation plan should be shelved. In a letter to Premier Gladys Berejiklian, Ms McKay said the Forestry Corporation was "essential to regional and rural NSW."
Ms McKay's letter said the corporation's softwood division not only "produces enough timber to build a quarter of the new homes in Australia every year" but employed more than 500 people in regional and rural NSW.
"While unprecedented fires have devastated NSW, Forestry Corporation workers have played a crucial role in helping prevent, control and fight fires, establishing containment lines, assisting with back-burning efforts and fighting on the front lines," her letter said.
"It would be perverse for the NSW government to show its gratitude to these men and women by selling them and their jobs off to the highest bidder."
The move to privatise trails other states which shed their assets years ago.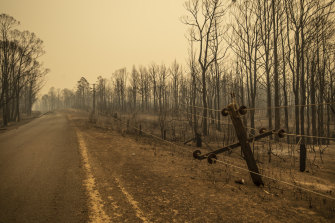 The Kennett government in Victoria reaped $550 million in 1998 from the sale of the state's soft and hardwood plantations to US investment company Hancock Natural Resources Group.
Hancock extended its reach in 2010 when it secured a 99-year lease over the Queensland government's plantations for $603 million.
When asked if it would bid should the NSW privatisation go ahead, a Hancock spokesperson said it did not comment on commercial matters and it "would be particularly inappropriate at the moment given the devastating impact of the bushfires".
State-owned plantations were also sold off in Tasmania and South Australia in 2017 and 2012 respectively.
Deputy Premier John Barilaro said many Forestry staff were still deployed on active firefighting duties, which remained the priority.
"My immediate focus is working to assist fire-affected communities on the north and South Coast in the aftermath of these devastating fires," he said.
Tom Rabe is Transport Reporter with The Sydney Morning Herald.
Carrie Fellner is an investigative reporter for The Sydney Morning Herald.
Alexandra Smith is the State Political Editor of The Sydney Morning Herald.