Heavy trucks pass hospital all night under Cross River Rail proposal
"During the peak construction period, around May 2022, up to 10 heavy vehicles movements an hour will be required," he said, saying the change in route would allow for a "minor increase" in heavy vehicle movement.
Kent Street is used by light vehicles to access the construction site, and the authority also wants to organise some roadwork at the Annerly Road and Cornwall Street intersection to allow for trucks to turn in and out safely.
The proposal would require council approval for some work in the road corridor, to manage large deliveries and extended concrete pours, the authority said in its proposal to the Coordinator-General.
A CRRDA spokesman said the changes would allow "safer and more efficient heavy vehicle access into the eastern side of the rail corridor, rather than having to rely on O'Keefe Street and the Boggo Road busway as previously proposed".
"Minor physical modifications will be made to the Annerley Road and Cornwall Street centre median strip, and the eastern kerb line at the Cornwall Street and Kent Street intersection, to accommodate heavy vehicles," he said.
Independent Tennyson ward councillor Nicole Johnston wrote to the Coordinator-General saying she was concerned about pedestrian safety in the high-traffic area if the request was approved.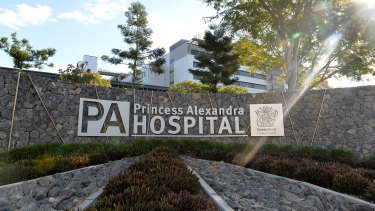 "There is no safe crossing point across Cornwall Street at Annerley Road between Dutton Park Rail Station and Hefferan Park," she wrote.
"In addition, there is extremely limited pedestrian storage and passing space on the Dutton Park Rail Station corner of the intersection.
"Large trucks already have trouble turning at this intersection, frequently running over the kerb and putting pedestrian lives at risk."
Cr Johnston said the current plan for heavy trucks to enter and exit via O'Keefe Street, near the busway on the northern side of the hospital, should be retained.
The CRRDA spokesman said the change would last the life of the project, expected to be 2024.
"While residents may see a minor increase in traffic overnight, the predicted increase in traffic noise is less than one decibel – well below the project's noise goals and levels most people can detect," he said.
Public comment on the proposal is open until 5pm, Friday, October 2.
Lucy is the urban affairs reporter for the Brisbane Times, with a special interest in Brisbane City Council.