Man faces court charged with bashing woman, 78, outside church
19th March 2021
A man charged with bashing a 78-year-old woman on the steps of a Melbourne church is also accused of assaulting another person the same day.
Amrick Roy, 26, appeared before Melbourne Magistrates Court on Friday, charged with assaulting Penelope Katsavos as she opened a church in South Yarra last Saturday morning.
Police allege Mr Roy assaulted her, inflicting serious injuries and stole her shopping trolley about 6.15am.
A council worker found the grandmother on the church steps about half an hour later. She had suffered bleeding on the brain, a fractured pelvis and a broken wrist.
Mr Roy wore a face mask as he appeared before court on Friday, via a video link from custody, and appeared to have a bruise under his left eye.
His lawyer, Ellen Murphy, said Mr Roy also needed to see a nurse for a laceration to his head.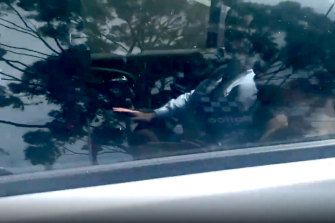 Mr Roy is charged with intentionally and recklessly causing serious injury, robbery and theft.
Charge sheets also allege he assaulted another person in Prahran last Saturday. He faces charges of intentionally and recklessly causing injury over that incident.