Melbourne cops a drenching, but skies to brighten for Tuesday's Open play
Bureau of Meteorology senior forecaster Rod Dickson said Tuesday was shaping up as a much better day for play at the Open.
"It's cloudy at first this morning but it should break up. There'll be sunny conditions for the afternoon and a mild top of 22 degrees," he said.
Most of Monday's rain fell in the state's east – Mount Moornapa, west of Bairnsdale, copped a whopping 139 millimetres, 51mm in just one hour.
About 40 kilometres to the south, Stratford received 109 millimetres.
Loading
While the heaviest rains were mostly to the west of the Gippsland bushfires, fire-affected regions throughout the state have generally received somewhere between 20 and 60 millimetres since Sunday.
The heaviest of Monday's rains in the metro area fell in the eastern suburbs, with Ferny Creek receiving 73 millimetres and Monbulk 51 millimetres.
State Emergency Service crews have received close to 2200 calls for assistance since Sunday's wild weather dumped massive hail stones in some suburbs. About 250 of these calls were for flash-flooding events, mostly from Monday's rain.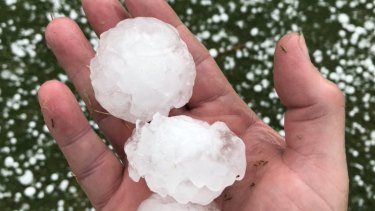 Loading
Pakenham residents alone made up 43 of Monday's calls for help.
Rising temperatures forecast across the state on Wednesday, combined with north-westerly winds, will pose a new risk of bushfires.
"We're forecasting 32 in Melbourne but 37 in the north-west areas. That will push fire dangers up," Mr Dickson said.
"At this state we've got severe fire danger for south-west, north-central, northern country and Wimmera areas. And extreme in the Mallee.
"There is a change coming through during the late afternoon and we'll see some showers developing with that late on Wednesday. The main impact will be over western Victoria with that southwesterly change.
"Further east, it's not as hot and windy during the day but I think we'll see winds increase Wednesday night into Thursday."
Zach is a reporter at The Age. Got a story? Email me at zach.hope@theage.com.au