Mystery photos show Germans with swastikas in Brisbane before WWII
"When I got them back, they looked great but it was still unusual.
"It seemed different from standard photographs and when I zoomed in to get a closer look, it showed this crosshatched pattern with blue and red colours.
"The procession was older than what I initially thought and it was obviously German because of the swastika flags.
"It would have had to have been before World War II, otherwise it wouldn't have been allowed."
The procession in the photos was a celebration of the 100-year anniversary of German missionaries settling in Brisbane.
Zion Hill Mission, established from 1838 to 1848, was the first in the state, and pioneered the settlement of Moreton Bay.
Some missionaries became farmers and imprinted their names on Brisbane roads and suburbs, including Rode Road, Zillmere Road and Zillman Road.
Mr Hillier said the photographs could be an integral part of Nundah's history.
"There's a monument in Nundah but I didn't know the centenary was a big deal back in those days," he said.
"The images show a stack of people on the street for the celebration."
Curator Kelly Leahy said she identified the process of the negatives as Dufaycolor.
"They had a particular pattern when you zoomed right in. It's a crosshatch pattern where most colour photographs from the 20th century under magnification have a continuous tone.
"Normally you see tiny dye clouds of colour that makes the image up, not lines.
"They're definitely the earliest identified coloured photographs in our collection."
Ms Leahy, who was trained in paper and photograph conservation, said she had been taught about the process but had never seen it before.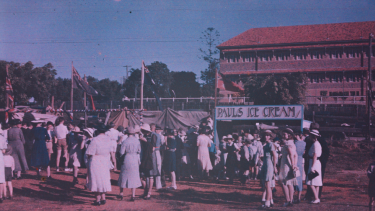 "The material is similar to dry nail polish," she said.
"There were all these experiments happening in those times to find a commercial and viable process, so lots of people tried screen plate patterns.
"Dufaycolor was one of the earliest commercially viable colour systems and it was available or manufactured between 1935 and 1958.
"But there was an earlier one was called Lumiere Autochrome between 1907 to 1934, that colour is actually dots made of dyed potato starch."
Ms Leahy said it was fascinating to see the process in the celebration but believed there could be more interesting images out there.
"It would be interesting for people at home if they found this kind of thing in their collection because you never really know what you have," she said.
The photographs can be viewed on the SLQ's online collection.
Jocelyn Garcia is a journalist at the Brisbane Times, covering breaking news.