Overland takes leave from council ahead of royal commission appearance
This is expected to be disputed by Ms Gobbo's senior handler, known as Sandy White, and his immediate supervisors. Mr White has testified that his warnings to police command about the risks associated with using Ms Gobbo as an informant were ignored.
The royal commission has also been provided a statement from current Chief Commissioner Graham Ashton. Mr Ashton in his statement says he first learned that Ms Gobbo was a registered informer while working for the now disbanded police watchdog, the Office of Police Integrity but at the time, didn't know what information she was providing.
Mr Ashton said that when he rejoined Victoria Police after a spell with the Australian Federal Police he was shocked by the full extent of Ms Gobbo's activities.
Mr Overland was variously assistant commissioner in charge of crime, deputy commissioner and chief commissioner during Ms Gobbo's registration as a human source between 2005 and 2009.
He was a key figure in the decision to also use Ms Gobbo as an undercover operative and eventually, a proposed Crown witness in the prosecution of former police detective Paul Dale for the murder of Terence and Christine Hodson.
This decision exposed Ms Gobbo's duplicitous double role and led to a bitter falling out between the lawyer – once described by Mr Ashton as a "glittering prize" – and Victoria Police.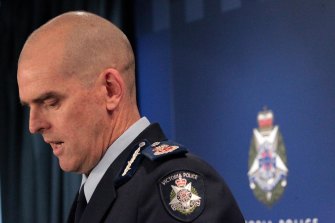 More recently, Mr Overland has been under siege at the City of Whittlesea, with a group of councillors calling for him to stand down as chief executive. On Tuesday night, council conducted its annual review of Mr Overland's tenure and $400,000 salary.
On Wednesday, Mr Overland notified his staff he would be taking leave due to health and safety concerns and did not know when he would return to work.
Loading
Mr Overland was appointed to the senior executive role at the large local council in July 2017, having previously run Tasmania's justice department.
City of Whittlesea sources said his reform agenda, although badly needed in the local authority, had alienated some councillors.
In 2011 Mr Overland became only the second chief commissioner in Victorian history to quit his post after an Ombudsman's report found he approved the release of unreliable and politically sensitive crime statistics on the eve of the previous year's state election.
Chip Le Grand is The Age's chief reporter. He writes about crime, sport and national affairs, with a particular focus on Melbourne.