Toyota LandCruiser prices hit record highs as Aussies holiday at home
20th March 2021
Travel restrictions and new model speculation has seen the price of new and used Toyota LandCruisers skyrocket, with second-hand model prices outstripping those of new models in some cases.
With more Aussies holidaying at home because of international travel restrictions due to the coronavirus, the demand has spiked for popular vehicles capable of towing, such as large four-wheel-drives and utes.
One online listing from a dealer for a 2021 Toyota LandCruiser VX with just 10 kilometres showing on the odometer is priced at $160,000, almost $57,000 more than the recommended retail price of a brand-new example.
And a top-specification LandCruiser Horizon Limited Edition is currently listed at $195,000, or $63,000 above the new car retail price.
LandCruiser prices have also soared due to Australians scrambling to secure what could be the last available examples of the diesel V8-powered four-wheel drive.
In production since 2007, the current model LandCruiser 200 Series is due to be replaced by an all-new model by the end of the year and speculation is rife that the LandCruiser's powerful diesel V8 engine will be replaced by a smaller, more efficient V6 engine.
Those rumours have contributed to the sharp price rise for both near-new and older LandCruiser models, which has also driven up the price of V6 models.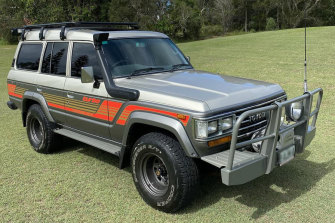 A 2018 LandCruiser Sahara is listed with 45,000 kilometres and a price of $129,000, while a 1987 Landcruiser 6-cylinder Sahara is selling for $75,000-plus.